Some News for Wed Aug 5
STARTERS
Jozy Altidore will be introduced by Hull City at a press conference on Thursday. Let's hope this a good move for him, but this is a team that will be in a desperate struggle to survive the Premiership this season.
dN
The new season in Argentina that was supposed to start in 2 weeks has been put on indefinite hold due to a deep financial crisis at many of the clubs. No other actions were announced. This could very well mean that you will see a flood of players leave the country at budget prices during the current transfer window. See article on the South America section.
dN
Puerto Rico, DC and Pachuca last night advanced to the Group Stage of the CONCACAF Champions League. Two more teams will advance tonight.
CONCACAF CHAMPIONS LEAGUE
Preliminary Round Second Leg Matches:
-Tue Aug 4
Puerto Rico Islanders 0-0 Toronto FC
(1-0) - PRI advance 1-0 on aggregate.
Match report
from CONCACAF.
Jalapa 1-7 Pachuca
(0-3) - Pach win it 10-1 on aggregate. Pach goals by Chaco Gimenez, Ulises Mendivil(3), Paul Aguilar, Edgar Benitez & Gabriel Caballero. Jal goal by Mario Peneyro(PK).
Match report
from CONCACAF.
Luis Angel Firpo 1-1 DC United
(1-1) - series ends tied 2-2, with both teams having one away goal, so it went to Penalty Kicks, and DCU advance 5-4 on the PK's - DCU goal by Christian Gomez. LAF goal by Leandro Franco(PK).
Match report
from CONCACAF.
-Wed Aug 5
New York Red Bulls v W Connection
(2-2) - 7pm Central on FSC
Cruz Azul v Herediano
(6-2) - 7pm Central on Telefutura
-Thu Aug 6
Arabe Unido v Olimpia
(1-2) - 7pm Central
San Juan Jabloteh v San Francisco
(0-2) - 7pm Central
Real Espana v Liberia Mia
(0-3) - 9pm Central on Galavision
dN
The winners of these series move into the group stage, with matches starting on Tue Aug 18.
dN
DC won it on Penalty Kicks after Over time ended tied 1-1, when Firpo's Manuel Salazar put their 4th attempt over the crossbar.
dN
Firpo got their goal against DC when Marc Burch was called for a hand ball in the box, giving Firpo a PK. But it was one weird looking PK in which the taker ran up to the ball, came to a full stop, waited for a beat while DC keeper Lt Warf moved to his right, and then just put it into the other side of the goal.
dN
Puerto Rico played some of the ugliest anti-football that I have seen in a long time, and TFC just did not seem to have the will to break them down. The only guy on the Toronto team who seemed to actually be trying to win was Chad Barrett. The teams big star seemed to not care at all. Wow.
dN
Puerto Rico now join a group with Columbus Crew, Deportivo Saprissa and the winner of Cruz Azul v Herediano.
dN
Pachuca now join a group with Isidro Metapan, Houston Dynamo and the winner of Olimpia v Arabe Unido.
dN
DC now join a group with Marathon, Toluca and the winner of San Juan Jabloteh v San Francisco.
SUPERLIGA 2009
Official Site
Final
-Wed Aug 5
Chicago Fire v UANL Tigres
- 7pm Central on Telefutura
Venue: Toyota Park - Bridgeview IL
MLS SUMMER EXHIBITIONS
Matches & Scores:
-Wed Aug 5
Seattle Sounders FC v Barcelona (Spain)
- 9:30pm Central on ESPN
Venue: Qwest Field - Seattle WA
MLS
MLS Week 21 Matches & Scores:
-Thu Aug 6
FC Dallas v Houston Dynamo
- 7:30pm Central on Direct Kick
dN
Simon Evans of Reuters does a
Q & A with Commissioner Donald B. Garber
. Nice.
dN
Brian Straus of Fanhouse on
DC United's heavy schedule ahead
with league games, Champions League games, and a friendly v Real Madrid.
dN
Noah Davis at Sports Illustrated with
the weekly MLS news roundup
.
dN
Just a few weeks ago people were excited that former MLS assistant coach John Murphy (several teams) had been named coach of Livingston in Scotland. But the team has been in financial straights, and today was relegated from their Premiership to the 3rd Division. Could be a death sentence for the clubs future.
MLS ROOKIE OF THE YEAR
1. Chris Pontius
2. Omar Gonzalez
3. Stefan Frei
4. Darrius Barnes
5. AJ DeLaGarza
6. Kevin Alston
7. Sam Cronin
8. Steve Zakuani
9. Rodney Wallace
USL FIRST DIVISION
Tyrell Burgess of the Vancouver Whitecaps has been named Player Of The Week.
dN
And here is the USL First Division Team of the Week:
G:
Evan Bush - Cleveland - Four saves in 0-0 draw against Vancouver
D:
Matt Bobo - Charleston - Led team in 1-0 win over Austin
Marco Reda - Vancouver - Led team in win and draw on the road
Quavas Kirk - Minnesota - Led team in 1-1 draw against Portland
M:
Scott Buete - Charleston - Goal in 1-0 win over Austin
Tyrell Burgess - Vancouver - Goal, assist in 3-1 win at Rochester
Joseph Kabwe - Carolina - Goal in 3-0 win over Austin
Ryan Pore - Portland - Goal in 1-1 draw at Minnesota
Ciaran O'Brien - Montreal - Assist in 1-1 draw at Miami
F:
Marlon James - Vancouver - Two goals in 3-1 win at Rochester
Alen Marcina - Miami - Goal in 1-1 draw against Montreal
dN
Matches & Scores:
-Wed Aug 5
Rochester Rhinos v Carolina RailHawks
-Thu Aug 6
Portland Timbers v Vancouver Whitecaps
-Fri Aug 7
Vancouver Whitecaps v Charleston BatteryAMERICANS IN EUROPE
Kenny Cooper and his pops arrived today at 1860 Munich:
And is then introduced to the world:
And then
many more photos
from the team website.
dN
Game Action:
UEFA Champions League
- 3rd qualifying round - Second Leg
-Wed Aug 5
Mix Diskerud
- Stabaek - Drew 0-0 at home against Kobenhavn, and were ousted 1-3 on aggregate.
UEFA Europa League
- 3rd qualifying round - Second Leg
-Thu Aug 6
Clint Dempsey
- Fulham - v Vetra (3-0)
Ryan Guy
- St Patrick's Athletic - at Krylya Sovetov Samara (0-1)
Eddie Johnson
- Fulham - v Vetra (3-0)
Troy Perkins
- Valerenga - at PAOK (2-1)
Johann Smith
- Rijeka - at Metalist Kharkiv (2-1)
ENGLAND
The Observer looks at
the ambitions of Derby County with new American ownership
.
dN
The Observer also
talks to Ipswich manager Roy Keane
.
dN
The FA has decided to weigh the severity of Red Cards when handing out suspension this season. Previously they carried an automatic 3 game suspension, but now they could be shortened or lengthened depending on the result of the foul committed.
dN
Didier Drogba has signed a 3 year contract extension at Chelsea that runs through 2012.
dN
Manchester United goalkeeper Edwin Van Der Sar has suffered a broken finger and left hand in last weeks game against Bayern Munich and will be out of action for up to 2 months.
dN
Rob Hughes of the International Herald Tribune writes about
Manchester City fans, and what do they do now that they are no longer the "poor people" in town
.
dN
The Daily Mail reports that Crystal Palace,
[CORRECTION: Sorry I listed the wrong greasy owner - Thanks for the heads up J]
,
has been banned from signing any new players
because of complaints of unpaid bonuses and transfer fees.
ENGLISH PREMIERSHIP SEASON PREVIEWS FROM THE GUARDIAN
-
Arsenal
-
Aston Villa
-
Birmingham City
-
Blackburn Rovers
-
Bolton Wanderers
-
Burnley
-
Chelsea
EUROPE
Yesterday I wrote that Russian striker Pavel Pogrebnyak had signed with Wolfsburg in Germany, but a reader named Ed set us straight the the player has actually signed with Stuttgart! The corrections are always appreciated.
dN
The BBC with a good
historical look at Romanian club Steaua Buchuresti
. The story behind many of the old Eastern Block country teams is fascinating.
dN
Jonathan Wilson of the Guardian on
the future of Ukrainian football
.
dN
Gazzetta dello Sport with an article on
AC Milan who have had a miserable preseason, may lose Andrea Pirlo, and still have not spent any of the big money they got for selling Kaka
.
dN
The Global Post with an article on the Polish national team, which is really struggling right now, and
the blame is being placed on manager Leo Beenhakker
.
dN
Deutsche Welle on the "
Bundesliga coaching carousel
".
dN
The Bundesliga OWS with a story on last years big surprise
Hoffenheim who say they are ready to go for the crown again
. The real question is whether or not goal scoring maniac Vedad Ibisevic will be healthy.
dN
Gavin Hamilton of World Soccer does a
Q & A with Germany coach Joachim Lowe
. Via Sports Illustrated.
IMPORTANT EUROPE MATCHES
Bundesliga - season kick off this Friday:
-Fri Aug 7
Wolfsburg v Schalke
- 1:30pm Central on GolTV
dN
Italian Super Cup
Match & Score:
-Sat Aug 8
Inter v Lazio
- at the Birds Nest in Beijing
UEFA CHAMPIONS & EUROPA LEAGUES
Champions League
3rd Qualifying Round, Second Leg matches
on Tuesday & Wednesday.
The final CL qualifying round matches, called the Play-off Round, will take place on Aug 18/19 & Aug 25/26.
dN
Europa League
3rd Qualifying Round, Second Leg matches
on Thursday.
The final EL qualifying round matches, called the Play-off Round, will take place on Aug 20 & Aug 27.
SOUTH AMERICA
Marcela Mora y Araujo of the Guardian with a report on
the faltering finances of the Argentine Football Association
.
dN
Tim Vickery of the BBC
decries the lazy South American journalists who insist on using the same old stereotypes
.
dN
IMS Scouting with an article on "The New Robinho", Santos's
Neymar
.
WORLD CUP SOUTH AFRICA 2010
The Cape Argus newspaper gives a suggestion for
budget lodging during the tournament
.
ENDERS
Another day, and another book that you need to read:
Englisher Fussball by Rafael Honigstein
One of the great writers from the Guardian with a new book looking at the English game from a very German viewpoint. He starts at the beginnings of the modern game and takes us through to the present day. Why does England have the most popular league in the world? (only released in England so far)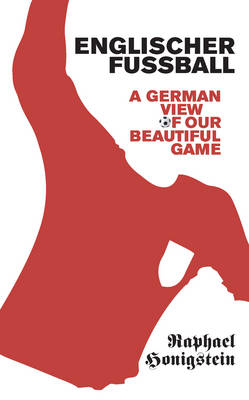 Support your independent bookstore by buying it from
Foyles
or
Blackwell
.