Mr. Natural Says "Use the Right Tool for the Job"
At least, that's what my mom always tells me, mostly because I married a guy whose surname is Toole. But it's true--soccer fans, use the right tools for the job. In this case, the job is banner construction.

Hi, my name's
Prairie
, and
I make banners
. What started out as a way to spruce things up around the games at Gillette Stadium turned into a hobby and now sort of a freelance job. I'm short and my voice doesn't really carry in a crowd, so this is a way to get my point across. 
I get asked a lot how I make banners, and my usual answer is that there's not any trick to it, I just do. However, over the past five or so years of doing these, I've amassed a regular arsenal of tools and supplies I use to get the job done. Since du Nord has a broader audience than my site, I figure now's as good a time as any to present a tour of my tifo workshop.
We start at my sewing cabinet, where I store all the banner supplies. Paints, brushes, thread, hardware, needles, all that fun stuff. The iron's for pressing hems and heat-setting the paint. There's a paper trimmer and a bag of card stock for an ongoing
non-banner project
, too. I've got speakers for tunes (huge Bob Mould and Ted Leo fan), though some bear took off with my iPod last month when I was in
Norway
. I'm not much of a knitter--I've made like two scarves, ever--but the needles belonged to my grandmother, and they're a memento of how the craft skills run in the family. 
The bobbleheads, book, and framed photo, well, they're the patron saints. The book's the Brad Friedel autobiography; he's my all-time favorite. The bobbleheads are Heather Mitts, MLS Internet Boyfriend Jimmy Conrad, and Oguchi Onyewu, just picked up over the years. The photo is of the best banner response I've ever gotten. It's Taylor Twellman in front of the "Why Not Taylor" banner we did after he was omitted from the 2006 World Cup roster. "Every once in a while you need reassurance that people want you around" is the quote underneath, from the 
Boston Globe
(remember when they wrote about local soccer?) story that ran with the photo the next day. 
It's all a reminder of why I do what I do and what keeps me going when I'm stuck.
The design process starts here. I do just about everything on my laptop using Photoshop, though sometimes I'll use the clipboard, paper, and pencil to create a raw sketch to be scanned. Once I've got the template put together, I sew the blank banner using a borrowed sewing machine (mine broke a long time ago and I've never bothered to get it fixed) and fabric, most commonly the white cotton twill you see on the center right. Cotton soaks up water, but it takes paint beautifully and is dirt cheap, making it the easiest banner fabric to work with. Provided it's not raining, of course, but how often is that a problem in New England? I've also got a roll of sign painter's paper (left), which I use for one-shot banners. Lightweight, holds paint, and disposable, it's a good choice for single-game jokes about how everyone loves Alan Gordon.

After the sewing comes the tracing, and here's where I've got a bit of an ace in the hole--I'm married to an audiovisual technician, so we happen to have an LCD projector lying around the house. That's the big dark green thing in front of the laptop. I hook that up to the laptop, tack the blank banner to the wall, and trace the design using fabric markers. That way, painting the banner is more or less just coloring within the lines, like a coloring book. 
Now we're down to the real meat of the process, starting with the cheap plastic tablecloth in the background. I use that as a reusable dropcloth, and you can see it's been around the block almost as much as Amado Guevara. Working counterclockwise from the top right, we have almost everything I need to paint and finish a banner. There's coffee; that's real important. The white fabric is a color test strip, used to determine what's the best color for a given project. Bottles of water and fabric medium help extend the reach of the paints I use, and the fabric medium is mixed with craft acrylics or latex paints so they adhere better to fabric. 

The entire left side of this photo is a selection of paints, a mix of stuff from the art/craft supply store and good ol' Home Depot. For fabric paint, I love Jacquard brand paints; the colors are vibrant, easily mixed, and a little will go a long way. Buy the colors you use the most (in my case, black,white, and navy) in the biggest containers you can. The peach color is craft acrylic, and all the unmarked plastic and glass jars are either custom-mixed colors or smaller, manageable portions of colors I buy in bulk. The quart cans of Glidden are the MLS official team colors for the Revs; you can get them for other teams if that's your bag, I guess. Just don't say I didn't warn you when
Shalrie Joseph
comes to your house and eats your family.  
After the paint is dry, you iron the snot out of the fabric (or run it through an industrial dryer at the laundromat for about an hour) on the highest setting it will take. This is heat-setting, and this is what seals the fabric paint and makes it waterproof.
In the center, we've got brushes, tape, and mixing supplies. Cheap disposable foam brushes work best if you've got a lot of material to cover. For more detailed projects, I use a mix of brushes made for fabric paints. Fabric paint brushes have short, stiff bristles ideal for getting sharp lines and scrubbing the paint deep into the fibers. The blue painters' tape helps keep things clean on areas where I need large straight lines, usually lettering. Paper plates and bamboo skewers are handy paint mixing tools. The little plastic things next to the tape are empty contact lens bubbles, which I discovered are great to use if you need to mix a tiny amount of color on the fly.
At lower right, we've got the hardware that finishes things off. Pins and thread for sewing, and the nylon strap, snaps, and pliers I use to hang the banners. Now, this only works for stadiums that have railings (who the hell decided to build the Home Depot Center without them?), but where most people use grommets and string or zip ties, I install permanent straps on all my banners. I sew about a foot or so of nylon webbing every three feet or so along the top of the banner, and add heavy-duty snaps using the pliers shown. This is all stuff you can get at any fabric store, btw. Fair warning: The snap pliers take some practice using, and there is a high failure rate on putting them together. 
Once the snaps are securely in place, however, the snap-and-strap system is washable, quick to attach and remove to a stadium railing, and requires no additional tools or supplies (great for road trips when you're only bringing carry-ons). And for those unfortunate parks that don't have railings, you can just tape the straps down along the sides. The snap-and-strap thing requires a bit more work when you're first making the banner, but trust me, they save a lot of time and hassle on gameday.
So, you know, with the tools and methods described above, you've got enough to put together something like this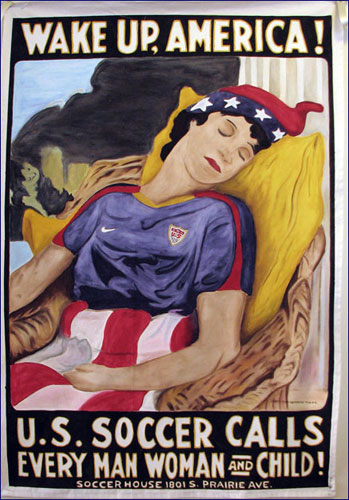 But you'll need one more thing--some buddies to help you hang the thing out in the stands. I'm usually on my own for sewing and painting, but there's a rotating cast of recruits from the Fort (and elsewhere) who help me get this stuff on display. It also helps a lot to have your team's front office on your side; in the past few years, the Revs' FO has gotten a lot more sympathetic to tifo stuff, although I'm quite certain that they (and US Soccer) think I'm completely insane.  
Beau Dure thinks I'm clever
, so I got that going for me.

Ultimately, though, it's like I said, there's not any trick to any of this; 90% of it is just showing up. Get some paper or fabric and some paints and knock yourself out.